Time for Yourself and Your Yoga Practice
A yoga retreat is your chance to take some time off, recharge your batteries, get reacquainted with yourself and take your yoga practice further.
Together with Carmen Draxler, a dear friend and colleague, I organise yoga weekends and yoga trips in Austria and Slovenia. Each retreat is dedicated to a specific theme, which we explore together over several days. Through the combination of body postures and exercises (asanas), breathing techniques, meditation, creativity and contact with nature, we engage with the respective theme on all levels and experience it with body, mind and soul.
The retreats take place in carefully selected retreat centres which create the appropriate setting for this powerful yoga experience and provide us with the necessary energy through lovingly prepared food.
Our Yoga Retreats in 2022
Currently, all our scheduled yoga retreats are in German. If you're interested in organising an English-speaking yoga retreat, reach out to me.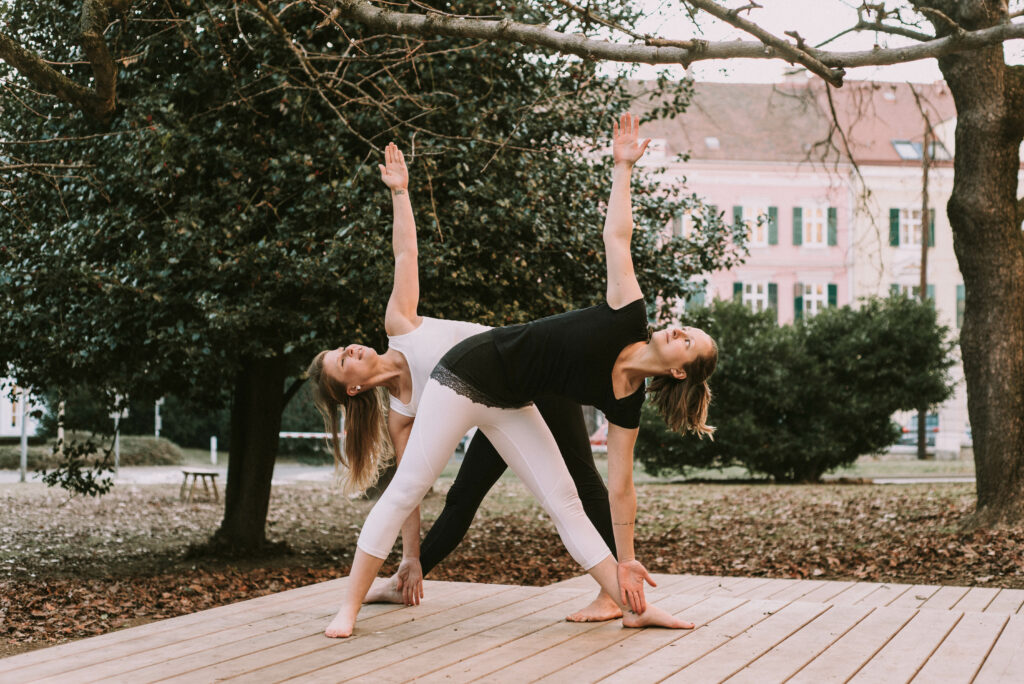 Frequently Asked Questions (FAQ)
What is a yoga retreat?
As you can tell by the name, yoga retreats are events where you can retreat from your day to day life. Over the course of several days, you go to a special place in the conscious intent to take time for yourself and your yoga practice. At the same time, yoga retreats are also moments of togetherness: They're all about exploring the chosen theme together, immersing ourselves in the world of yoga and our surroundings, learning from each other, growing with each other, supporting each other on our respective paths… All this makes a yoga retreat a very powerful experience.
What to expect from a yoga retreat?
Here is an example of what a day at a yoga retreat looks like:
7:30 am: Morning yoga class with Eva

9:00 am: Breakfast

10:30 am: Morning programme (e.g. mindful hikes)
1:00 pm: Lunch
Free Afternoon

5:00 pm: Afternoon yoga class with Carmen

6:30 pm: Dinner

8:00 pm: Evening programme (depending on the retreat theme, e.g. guided meditation or fire ceremony) 
How will a yoga retreat benefit me?
Every retreat is a unique co-creation which involves us (the instructors) and the participants. What you take away from your retreat highly depends on the objective you pursue with it. Here are some examples of what you can achieve with a retreat:
Deepen and develop your yoga practice
Gain deeper understanding of your personality and your life
Get a clear vision of your wishes and next steps
Better understand yourself and others
Relax your body, mind and soul
Make new friends and contacts
Get new ideas and stimuli
Enjoy calmness and relaxation
Take time for yourself
And so much more…
Got any more questions? I'm here for you. Send me an email and I'll get back to you in person.
Organising Your Own Retreat
Interested in organising your own yoga retreat? I'd love to help you with that – including organisation (planning, marketing, etc.) and the actual carrying out of the event. In addition to yoga and meditation classes, I can also enhance your yoga retreat with cacao ceremonies and my knowledge about integrative nutrition, plant-based cooking and holistic lifestyle. I love getting to know people from all over the world and can give classes in German or English.